Category Archives:
Ask The Gentle Dentist
Hybridge Permanent solution for your smile.
Many think that dentures are a thing of the past, but more people wear them than we think. According to the National Health and Nutrition Examination Survey (NHANES III), 57 percent of Americans ages 65 to 74, and 51 percent of those age 55 to 64 have full or partial dentures. Some don't mind taking a denture in and out, however some want a more permanent option. The good news is that now with advanced technology there is a permanent solution.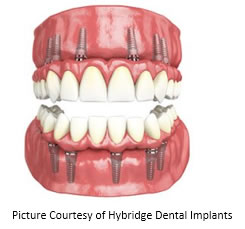 The technique called Hybridge is an innovative full-arch tooth replacement. Only certified dentists that have met qualification criteria and completed rigorous training courses are able to perform the Hybridge solution. This method has been tested and proven over the last 25 years by founders Drs. Frank and James LaMar. According to the Hybridge website, there are no providers in Michigan that are able to do the Hybridge technique until now. Dr. Antolak in Shelby Township, Michigan is now becoming a certified dentist with Hybridge.
If you are looking for a lower jaw or an upper jaw full arch dental implant bridge, or even a full arch full-mouth restoration, then the Hybridge technique may be for you. The end result would be a finely crafted prosthetic restoration supported only by permanent titanium dental implants. There is no contact with your gums and the upper jaw does not cover the roof of the mouth.   Every patient is different, and Dr. Antolak will devise a plan that is best for you to choose from. If you are tired of the way your teeth feel and look then give us a call.  Even if you have existing dentures that you are really tired of we have a great solution for you.
The Hybridge full arch system will provide you with teeth that look natural and that won't slip or fall out because they are permanently fixed. It will allow you to eat the foods you love and want to eat and not the foods that "you have" to eat because they are durable and long lasting. You will also never have to go without teeth because you will leave with a temporary set of teeth the same day. Hybridge differs from other full arch systems because it is supported on 5 or 6 dental implants and the entire treatment is planned with the final definitive restoration in mind. The final definitive restoration can be ready in as little as 3 weeks.
This full arch solution is definitely an investment. With all factors considered including long term maintenance, the Hybridge is considered the most cost effective solution with the best long term value. One full arch treatment can typically range anywhere from $17,000-$20,000. However, the cost does vary depending on the number of teeth remaining and if it is the upper or lower. Insurance may cover a small portion of the cost. For a more exact cost, give us a call for your initial consultation.
With a completely fixed dental implant retained bridge, you will need to still come in for your regular dental cleanings and check-ups every 3-4 months. Since Hybridge is screwed in place it can only be removed by the dentist and only when needed. Patients young and old can get the Hybridge as long as they have good healing. Smoking does hinder the healing time of the Hybridge procedure, and is generally not advised for those who have dental implants anyway.  The Hybridge is a once and for all solution and could change your life!
Dr. Antolak has been looking for a solution for about 5 years and is excited about this technique so give us a call for your exam and consultation.
Article written by:  Jessica Wendt, RDH
Oral cancer detection, treatment and dental implications for radiation treatment
I attended the Michigan Dental Association conference in mid April and wanted to share some of the information with you, the public. I will keep this simple, but at the same time relevant to you, the reader.
Facts:
There are about 37,000 new cases of oral cavity cancer diagnosed in the US each year.  Around 8000 will die each year annually.  The majority are squamous cell cancer over half of these have a metastases at a distant site.  There is a five year survival rate of around 60% for all stages combined.
HPV or Human Papilloma Virus, a sexually transmitted disease is found in some of these oral cancers.
Those who are most at risk are those who smoke and drink alcohol.  The most recent and fastest demographic are sexually active men and women in their 20s and 30s.  The HPV virus is transmitted and can contribute to oral cancers in this young group, who in the past were at a very low risk.
The earlier the cancer is diagnosed and treated the better the outcome
Diagnosis:
During a the soft tissue phase of a dental examination it is the standard of care for the dental provider to feel the neck for any swelling or lumps, check out under  the base of the tongue and examine the roof of the mouth and soft tissues in the throat.  These visual and tactile exams can reveal early signs of oral cancer.  Oral cancer can appear as a minor change in the soft tissues.  The most common area where oral cancer is located is under the tongue and in the back of the throat so it is very important for your dentist to have you, the patient, stick out your tongue and to roll and pull the tongue to the side.  If there is a red or a white lesion that cannot be directly related to a tongue bite or injury, a biopsy is usually necessary.
Biopsies include a brush biopsy which uses a stiff brush to scrape off some of the cells of the lesion or a full blown scalpel biopsy which excises the tissue.  Both require the sample to be sent to a pathology lab to be diagnosed under a microscope.  If there is a positive diagnosis of oral cancer then swift care is vital to a favorable outcome.
Treatment:
Most patients will receive head and neck radiotherapy with chemotherapy as a primary curative therapy.  Surgery is necessary to remove the affected parts of the tongue, bone and sometimes face.  This is gruesome at times and really affects the appearance of the patient.
There are specialized protocols and masks that are used to protect those tissues that are in the line of fire of the direct radiation.  Multiple visits are necessary to eliminate the cancer in the tongue or neck.  The radiation kills off any of the tissues that are in the path of the x-ray beam and since the intensity of the beam is extremely strong and focused is it critical to stay out of the path of important saliva glands in the head and neck.
Since cancer cells and saliva glands are fast growing cells they are both at risk. Of course the objective of treatment is to kill off the bad cells and spare the good cells in the glands.
Side effects of Radiation:
Side effects of head and neck radiation therapy include
Xerostomia or dry mouth
Oral pain, burning tongue pain and difficult time swallowing.
Loss of taste
Jaw muscles tightening and freezing up, limiting opening.
Burning of the skin from the xray beam
Yeast infections of the mouth
High risk of Dental cavities
High chance of periodontal disease
Osteoradionecrosis of the jaw .Radiation of the bone has very negative consequences associated with it.  Bone that has been radiated does not heal itself and is very prone to infections.  The term osteoradionecrosis is a term that affects bone which means that the bone dies off and is very difficult to heal.  Bone that is in the line of the tumor, especially the mandible (lower jaw bone) is the highest at risk.  Since bone metabolism is affected, dental treatment before cancer therapy is vital.
Dental Treatment:
Once the cancer has been diagnosed the oncologists usually desire to begin treatment within 2-3 weeks.  Since time is vital there are a lot of issues that need to be addressed.  Since the side effects mentioned above are real, dental treatment needs to begin just after diagnosis.  Teeth that even have the hint of a periodontal or dental infection need to be extracted.  Any fillings that need to be completed need to be done immediately.  Prompt and aggressive care is vital since the tissues cannot heal normally once radiation therapy begins.  It is much better removing any of these questionable teeth since major problems and complications can develop afterwards.
Palliative Care (pain management):
Once treatment begins it is critical to do what is necessary to relieve pain.  The oncologist can prescribe mouthwashes to reduce the pain.  Fluoride use is important to reduce the high risk of developing cavities at a high rate.  For prevention of oral yeast infections medications can be given.  This type of infection can make the mouth very uncomfortable and can be very stubborn to eliminate.  With a dry mouth, the normal balance of good oral bacteria is affected and the opportunistic yeast infection (thrush) takes over.  Saliva substitutes and oral moisturizers are available to help out.
In summary the diagnosis of oral cancer can be devastating to the patient and their family but with good planning and a very fast response by a competent cancer team, including the dentist, is critical.  If you or a loved one has been diagnosed you can give us a call to provide possible solutions to your problem.  Our phone number is (586)247-3500.
Ask The Gentle Dentist: Shelby Twp Dentist Discusses Oral Cancer
If you have any follow up questions or suggestions for future articles please contact The Gentle Dentist in Shelby Twp by filling our our contact form or by writing us at: 15055 22 Mile, Shelby Twp, MI 48315.
Question: I keep seeing more information on cosmetic dentistry all of the time. Could you explain what this entails and how it can make a difference for me?
This is the process of improving one's smile and overall appearance through many enhancement techniques.  At our office our goal is to make all of our patients look the best they can.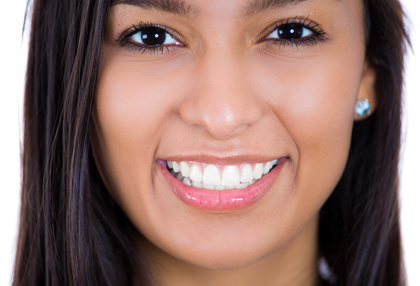 An article in US News and World report a few years ago stated that 75% of Americans felt an unattractive smile could hurt one's chances for a career success, and that only 50% of the American public are satisfied with their smile! A smile is the first thing noticed by others and unattractive teeth and smile will often be covered up with facial hair or by one's hand when smiling. People have even limited themselves in their careers and personal lives because of a bad looking smile. Aging also has a negative effect on the beautiful smile.
What happens as we age and how does it affect the teeth and smile?
As we age, teeth naturally become yellow and wear down from use and trauma.  Teeth yellow as stain fills in the micro-cracks in the enamel layer of the teeth.
Another characteristic of aging is the sagging of the face from gravity and the loosening of the skin.  This affects the amount of teeth that show when smiling.  In the mid-30's the average female shows about 3 millimeters of front tooth when relaxing without smiling.  Then by the time she reaches 60 she won't show any front tooth when relaxed.
A good looking smile contains the following characteristics:
The teeth are white, not dark and of the same color
The teeth are evenly spaced and shaped the same on each side of the face.
The gum tissue that frame the teeth are pink and healthy, meaning they don't bleed.
A full smile shows most of the upper teeth and when looking head on you should see between 10-12 upper teeth.
The teeth are not chipped or worn down significantly
Fortunately there are more choices than ever to improve the look and feel of one's smile. There are a variety of cosmetic procedures that can be done to enhance one's appearance.  They include but are not limited to the following options:
Whitening
Whitening using a safe and effective material that contacts your teeth making them 8-9 shades lighter.  The outside enamel layer whitens as the stains are oxidized  You can whiten your teeth by wearing a very thin rubber shell around your teeth during the day or night. After 2 weeks of this your teeth will usually show a big change in their color.  Whitening or bleaching is the most popular and cost effective process to improve your smile.  In office whitening using a strong bleaching agent is also possible, but needs to be coordinated with the home whitening process for the best and longest lasting result.
Re-contouring of the Teeth
Re-contouring of the teeth can be a very effective way to make your teeth symmetrical and in one visit can make a huge difference in their appearance.  This is done through minor changes in the shape of the front teeth without any numbing.
Orthodontics
Braces move teeth to keep them aligned properly. We offer Six Month Smiles Cosmetic Braces that can move your teeth as fast as 6-9 months.  This process is a safe and long lasting procedure.  Even if it takes more time to do this procedure, it can be well worth the time spent in braces.
Veneers
Veneers are thin shells of porcelain that can lengthen, whiten and strengthen the teeth.  By using these we can do "instant orthodontics" and significantly improve the smile in just 2 visits.  Veneers are bonded to the teeth using materials similar to those that bond the heat tiles to the space shuttle.  Lumineers are "no preparation" thin shells of porcelain that can be used when the patient desires longer or thicker teeth.  Typical veneers require very little removal of enamel (0.5mm)  to make room for them which is about the thickness of a credit card.  If there is confusion about what is best for you give us a call for a free consultation at (586)247-3500.
Porcelain Crowns
All porcelain crowns can be done so no black line appears around the gums.  These are beautiful and look very natural because they allow light to be transmitted through the tooth.
Tooth Colored Fillings
Plastic fillings are done instead of the black mercury fillings.  These type of fillings not only look like your natural teeth, but they are very strong and durable.  They also prevent the teeth from cracking like what happens to the black mercury fillings.
Porcelain Bridges
All porcelain bridges to replace missing teeth.  These can be done in a few positions in the mouth, but they are beautiful and look very natural.
Cosmetic Dentures
If dentures are looking yellow and dingy it may be time to replace them with white porcelain teeth to give you the youngest smile possible. I can't tell you how many times we treat patients and remake dentures for them that state that the previous dentist wouldn't listen to them when they stated that they wanted their dentures white.  They are usually upset because they felt like they weren't listened to and even ignored.  Presently I find all of my patients want bright white teeth.  (And that is what they get).
At our office we take a series of digital photos during your examination to show you what we see in your mouth.   This educates and keeps our patients well informed of their situation and allows us to discuss the possibilities.
The camera is just a tool that we use to discover the smile you have been looking for.  If you have any questions about cosmetic dentistry please contact our Macomb County dental office at (586) 247-3500.
What is a Dental Implant?
A dental implant is an artificial root used to hold down dentures or replace missing teeth. Dental implants are surgically placed into the jaw bone and is surprisingly easy and pain free.
In the following photo it shows the implant in the bone, the abutment which is screwed down to the implant and the crown that is made and cemented over the abutment. These 3 parts are necessary to replace a single tooth.

The following image shows implants with a bar that supports a denture. These dentures snap over the bar, providing a more comfortable and secure fit to the denture so that you can eat the foods you want to eat and not the ones you have to eat. It is possible to screw the dentures to the implants for those patients who have good hygiene and are willing to invest in this alternative.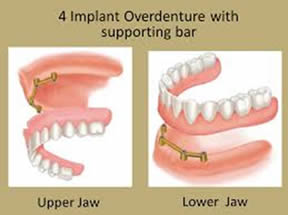 What are the costs of dental implants? Dental implants are a higher level of treatment from a clinical and technological aspect and therefore require a greater investment. The benefits are outstanding in regards to the ability to chew food and feel more confident. The range in price is dependent on a number of factors including necessary grafting, sinus augmentation, available bone, the number of implants required for a predictable outcome. Ranges are from $3500 and over. This seems like a lot of money (and it is) but for those who have this level of care there is little regret over the investment.
Question from a patient of mine who has a brother that had some teeth removed:
Is there any specific time after a tooth is removed when an implant should be placed?
Answer: there are a number of factors that affect the successful placement of an implant during the time that a tooth is extracted.
1. Areas of active infection can be a factor. If an infection is localized and not spread to the soft tissues of the face then it can be removed after a tooth is extracted and an implant placed. In the past it was believed that an implant could only be placed in an area that was without any infection. With proper cleaning and disinfecting of the extraction site and implant can be placed. It is necessary for the patient to be given an antibiotic for healthy healing.
2. Remaining bone after a tooth is removed is a huge factor if an implant can be placed. The most critical and thinnest bone is the bone that lays against the lip or cheek. This bone will usually shrink after a tooth is extracted. In fact it is the area we are most cognoscente of when extracting a tooth and protect it at all costs. Gentle, a traumatic extractions must be done for success. After a tooth is removed there is natural shrinkage of the bone can take place and if it shrinks to expose the threads of the implant then this can run into complications.
3. Molar teeth have either 2 roots (lower) or 3 roots (upper). Because an implant is best placed in the center of the site it usually lines up in the middle between where the roots are. It is sometimes better to remove the tooth, let it heal for a few months and place the implant in the ideal location. Many single rooted teeth will accept an implant placement immediately after the root is extracted.
Every attempt is made to reduce the healing time and surgical trauma to the patient and therefore placement of the implant during the extraction.
I have been placing and restoring dental implants for about 12 years now and they are very predictable and the first option of replacing missing teeth sine they are the least invasive procedure.
Candy Buy Back
Halloween has come and passed and what do you do with all of that candy you have left over? Might I suggest that you drop it off at our office so we can put it to a good cause and limit your temptation of eating what you shouldn't. Stop by our office at 15055 22 Mile. We are just east of Hayes on the north side of 22 Mile. It would be best to call us at (586)247-3500 before you come in to make sure we are open. If we are not open you can leave it in the hallway of the building in front of our door.
If you have any questions about dental implants you would like to have addressed, please call our Shelby Twp. dental office at (586) 247-3500.
Enamel erosion and the irritating problem of dry mouth syndrome and oral sedation for our high fear patients.
Enamel Erosion and Dry Mouth:
The following question was asked by a reader Sandy. I would like to thank her for the question as this is what helps me out immensely since I want to be engaged with the readership.
Question: What do we do to build up eroded enamel and is there a tooth paste that can help eroded enamel? What ingredients must that tooth paste have? What do we do that erodes enamel?
At the same time my wife saw an article online from WebMD and passed this along to me. The following is an excerpt from Web MD.
Because a dry mouth is not only a dental issue it is a medical issue and I appreciate this article from a medical site supporting the dentist's involvement in overall systemic health. There is so much more evidence and research showing the association of oral diseases being related to systemic diseases. This only makes sense since our body is one unit. The following article also addresses the question posted by Sandy.
What Saliva Does: Dry mouth (xerostomia) is more than just feeling thirsty. You get it when your mouth makes very little saliva. Sometimes the saliva can be thick and stringy caused by a change in the glands themselves. Saliva helps you taste food and helps you digest food. It flushes food particles away from your teeth and prevents tooth decay. When you don't have enough saliva the skin in and around your mouth gets dry and tight. You may get cracks and sores in the corners of your mouth, dry tongue and you may have trouble speaking or swallowing. When saliva is reduced it can lead to bad breath caused by food particles sticking between your teeth. Enamel erosion takes place when the acid levels of the mouth increase thereby dissolving the minerals out of the enamel. Over time this softened tooth structure turns into a cavity where it can only be repaired by your dentist with a filling.
Causes: There are over 400 medications that can lead to xerostomia, including non-prescription drugs. Allergy, cold, high blood pressure and many other medications can cause this irritating side effect. Radiation treatment for cancer can affect the saliva glands and significantly reduce saliva flow. Autoimmune diseases, such as Sjogren's syndrome, where the body's immune system attacks the saliva glands and tear glands leave the patient extremely dry and prone to dental decay. Diabetes is a common disease that can leave the patient dry.
Habits that contribute to a dry mouth: smoking can dry out the mouth because of the nicotine and heat from the cigarette shrinks the minor saliva ducts in the roof of the mouth. Alcohol and caffeine can also reduce and change the saliva quantity and quality.
Age: As we get older not only is there the reduced function of our saliva glands but with the need of so many medications to keep us healthy a dry mouth is possibly inevitable.
Treatment Recommendations
Hydration is a critical factor in preventing problems with xerostomia. It is important to at least 8 glasses of water daily and to drink it frequently. This keeps the mouth moist and prevents dehydration. The moist mouth dislodges the food particles from packing between the teeth and reduces the acidity in the mouth. Cavities form frequently when food gets caught between the teeth and at the gum line.
To rebuild minor enamel erosion frequent brushing and flossing are critical using prescription level fluoridated toothpaste. This should be done a minimum of twice per day.
Use of xylitol sweetener and products like MI paste which help to re-mineralize the tooth structure can be helpful.
To answer Sandy: Toothpastes that contain not only fluoride but those specifically designed to re-mineralize by building up the enamel. I usually recommend Sensodyne toothpastes.
Living a healthy lifestyle with plenty of exercise and eating ample fresh fruits and vegetables are important to long term health.
Sedation Dentistry
Question: I have gone to your web site and noted that you perform sedation dentistry. What is this exactly? How does this vary from IV Sedation and will it work on me? I have such a high fear of the dentist and don't know if this program will sedate me enough to take care of my anxiety. Could you please answer me?
Thank You, Sharon P.
Answer: Sedation dentistry is safe and painless. Anxiety is controlled using what is called oral conscious sedation or a simple, safe sleeping pill before and during your treatment. You will become drowsy to the point of falling asleep during treatment and have virtually no memory of the visit. Can you imagine yourself sleeping through your dental visit? Sedation dentistry is ideal for patients who are fearful of going to the dentist, would like to get extensive treatment done in one long visit rather than making several trips to the dentist, and for those with a strong gag reflex.
Intravenous sedation usually involves a deeper level of sedation. Because a sleeping pill is used for the oral sedation it is a safer technique if used with a proper protocol. Both techniques monitor the blood pressure, heart rate and oxygen saturation in the blood to make certain the utmost safety is accomplished.
We are able to treat 95% of patients with this technique. We have only had a few patients who are minimally responsive to the medication. These patients usually need to be sedated using the IV approach which would require a referral to a specialist. Most cases we find that the patient remembers very little after the oral sedation procedure so this is very effective in treating those who hate coming to the dentist.
Ask The Gentle Dentist: Enamel Erosion and Dry Mouth
If you have any questions about sedation dentistry or enamel erosion and dry mouth, please contact us by email or by mail at 15055 22 Mile Shelby Township, MI 48315.
In our Shelby Township dental practice one of the most requested cosmetic procedures is teeth whitening. I would like to clarify what whitening (bleaching) is and what it is not so that you the consumer can make an informed decision when it comes to getting a brighter smile.
Bleaching has been around in dentistry for the past 25 years or so. It was first discovered accidentally when an oral wound cleanser was discovered to have an effect on whitening the teeth. The active ingredients in both the wound cleaners and in bleaching agents are either carbamide peroxide or hydrogen peroxide. These agents have the ability of creating "scrubbing bubbles", a phenomenon observed when pouring hydrogen peroxide over a bleeding wound. The bubbles kill off germs by breaking down the peroxide into oxygen, water and free radicals. Free radicals are small molecules that are very active in breaking down the structure of larger molecules.
Teeth become darker over time because large stain molecules are present within the structure of enamel. Over time these molecules will become larger and larger. Light reflects off of these molecules creating a dark appearance, so when bleaching agents penetrate the enamel they break the large stain molecules down into much smaller molecules which reflects a lighter image.
There are a few factors that make teeth whitening more effective:
1) Concentration and availability of active peroxide agents. The stronger the chemical the more active ingredient is available to oxidize to create more "scrubbing bubbles".
2) Time to break down the larger stain molecule. The best techniques are those using the plastic bleaching trays custom made at the dental office. Usually wearing them at night allows for the best results.
3) Custom tray construction. This is important because it is critical that the bleaching material stays in contact with only the enamel of the teeth as long as possible and not covering the gum tissue or even the root of the teeth. If it is haphazardly made and are not precisely trimmed it will cause great tissue irritation, burning the tissue and causing tooth sensitivity. The tray should actually create a seal at the gum line so when gas pressure is emitted from the chemical process it can actually penetrate into the tooth.
There are many techniques used in whitening teeth including in office whitening strips, paint on agents, toothpaste and even floss. This is a huge industry so when there is money to be made many gimmicks and strategies are out there.
In my opinion the night whitening with precise custom trays work the best. I have many patients who will complain that they had the Zoom done with no long term results to show for it because they were not informed that they had to whiten their teeth at night during sleep to gain a lasting effect. I also recommend nightly use of bleaching trays because at night the saliva flow is greatly reduced when you sleep. Saliva contains enzymes that break down the peroxides so the reduced saliva helps keep the material in the tray where it is most effectively needed.
The whitening strips do work, but they can't fit into the nooks and crannies if the teeth are at all crooked. They also only cover the front 6 teeth so when one gives a big smile the back teeth are darker, which doesn't look so good.
Tooth sensitivity is also a factor when it comes to teeth whitening. There are acidic preservatives added to some of the products used by dentists that make the bleaching material more stable and to prevent breakdown before use. The problem is that these agents can make the teeth more sensitive while not being active enough to break down when needed on the teeth. Rather than adding these acidic agents to the bleach, the Kor deep bleaching solution uses refrigeration to keep it active and preserved until needed. Hema, a common dental desensitizer is used before the bleaching process to reduce any sensitivity. All of these details are needed as well as a precise fitting tray to give you the deepest bleaching result possible.
There are many ways to whiten your teeth. What is important is the fact that your dentist can provide you the best outcome. Remember that only enamel can be whitened; tooth colored fillings, crowns and veneers can not be bleached out. Active decay must be taken care of before bleaching is done to reduce any possibility of root canals. The most important thing is that your dentist evaluates your situation to give you the professional guidance needed for the most predictable results.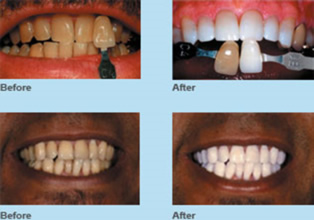 Mouth Guard Use
Contact sports should require a mouth guard to protect the player from concussions and tooth related injuries. In a recent seminar I attended I had learned that the main reason that soccer players get concussions is not from the header itself, but from when the lower jaw slams into the upper jaw, jarring the brain and creating the bruise in the brain. To prevent this type of deceleration injury a soft cushion needs to be placed between the upper and lower teeth. A soft rubber mouth guard with at least 3-4 mm of soft rubber in between the back teeth will provide enough cushion to prevent the brain injury experienced during a concussion.
I play hockey 3-4 times per week throughout the year for over 20 years and can tell you that my mouth guard has saved me numerous times. I will develop some jaw pain near the ear when my lower jaw is hit, but that is the worse extent that I have had. I know for sure that if I did not have my guard in place I would have chipped teeth and potential concussion. My son plays soccer on a travel team and he wears a guard or doesn't play.
A mouth guard also provides some level of protection to the teeth as it covers the entire upper arch of teeth.
There are basically 2 types of mouth guards:
Store purchased guards work but because they are boil and bite the fit is not the best and sometimes prevents the player from articulating his/her words with clarity.
Custom guards are made at the dentist by using a custom impression of the teeth. The guard is vacuumed down onto the model, creating an extremely accurate fit. It is then trimmed. polished and the bite is adjusted. Because I have been making them and use one all the time I can say that they work very well. The cost ranges from $150-$200 for these. It may seem expensive but if you consider the cost of an accident it is minimal.
Comfort is the key. If your player can tolerate the store purchased guard then that is great. If it is uncomfortable, falls out or he/she can't talk then you should consider the custom made devices.
Ask The Gentle Dentist: Teeth Whitening and Mouth Guard Use
If you have any questions about this or other dental topics you would like me to address, click here to reveal our email address. Contact us by calling: 586-247-3500 or write us at 15055 22 Mile #2 Shelby Township, MI 48315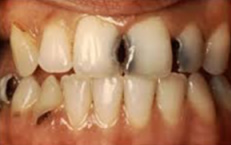 Question: There are so many options available to me when I look at the toothpaste selection at the store. Options ranging from organic, whitening, desensitizing, plaque and tartar reducing and other types are available. It overwhelms me when I try to make a decision on the best one to use. Can you give me some information that would be helpful when selecting them. Thank You.
Answer: You are correct when saying that there are many options available. It also blows me away when I look in the aisle. In my opinion it is important to choose a toothpaste that contains fluoride. I would like to discuss each major classification of toothpaste with some details so you can make informed decisions for you and your family.
Fluoride remineralizes teeth as the calcium is reduced in teeth. Calcium is leached out of the hard outer layer of the teeth (enamel) when the acid levels in the mouth increase. Acid is generated when eating sweets, pop, and other carbohydrates. When eating these food and drink the bacteria in the mouth metabolize the sugars as a food source. Acid is generated during this process which makes the teeth softer. Over time and frequency of exposure these can turn into cavities. I have young patients who have been addicted to sugars and constant sipping of pop. This process creates black or white spots on the teeth. The white spots are the beginning of cavities as this is the initial stages of decalcification. I use the analogy of when painted concrete starts to flake off of the side of a house. This is what happens when the white spots on the teeth turn into cavities. Cavities also form between the teeth and can appear as black areas. The constant exposure to sugar can create this. Seniors who have a very dry mouth are also at risk for these cavities because saliva will naturally neutralize the acid, and when it is not present cavities are inevitable. Fluoride in toothpaste helps to make the surface stronger and acid resistant. We will prescribe fluoride to be used in conjunction with fluoride containing toothpaste to aide in prevention of cavities. Seniors who are on many medications are at risk to get the cavities on the root surfaces of the teeth compared to the youth who sip on pop who get the cavities on the crown portion of the tooth.
Desensitizing toothpaste: This toothpaste contains compounds that block the movement of fluid in the dentinal tubules. The anatomy of teeth consists of 2/3 dentin and 1/3 enamel. The covering that we see in the mouth is the enamel portion. Enamel is about 95% mineral whereas the dentin is about 70% mineral. Pain is felt in the teeth though a system of small channels in the dentin called dentinal tubules. These are fluid filled with one end terminating in the nerve space of the tooth and the other end is exposed to the oral cavity. When hot, cold, sweets or pressure stimulus is applied to the dentin there is fluid movement in the tubule. This movement stimulates the nerve and pain is generated. Recession of the tooth exposes the root and dentin of the tooth making it vulnerable to this. Desensitizing toothpastes contain small particles that block these tubules thereby reducing the pain from these sensations.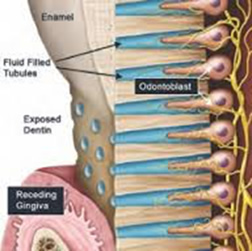 Whitening toothpastes: Enamel is made of a crystalline structure and over time there small cracks develop in the structure. Long chain molecules penetrate these micro cracks giving the tooth a darker appearance. Smoking, wine, and just age contribute to this phenomena. Bleaching agents contain oxidizing agents which break down these long chain molecules. Effective bleaching requires that the agent is strong enough and is in contact with the tooth long enough to break down the molecules. This is usually most effective with professional whitening via custom bleaching trays. The bleach is placed in the plastic tray and is worn for an hour or throughout the night. Whitening strips are also effective since they are in direct contact with the enamel. Whitening toothpastes just are not as effective because the concentration and contact time is inadequate to create a great result. Over time it can whiten but don't expect quick results.
Tarter control toothpastes: These toothpastes are contain sodium pyrophosphate which helps to dissolve the tarter before it can stick to the teeth. These toothpastes will not remove tarter that has already formed and can contribute to canker sores. The only way to remove tarter is have it professionally since tarter is strongly bonded to the tooth.
I have found that Crest Pro Health rinses and toothpaste has created some problems for some of our patients. We have found that layers of tissue that lines the mouth seem to peal off if the patient does not rinse adequately with water. I usually advise that they discontinue its use and use a simple fluoridated tooth paste.
If your mouth is sensitive and prone to sores, using a simple toothpaste without all of these compounds is usually advisable. Biotene products are good for those who have dry mouths. It is formulated for sensitive mouths.
If you have any questions that you would like answered regarding anything in dentistry please contact us on our phone (586)247-3500, or write at 15055 22 Mile #2. Shelby Twp, MI 48315 or click here to reveal our email address.
Thank you,
Dr. Antolak
There has been some "chatter" regarding the recent Reader's Digest Article on overuse of x-rays in all aspects of the medical profession.  I felt that it would be beneficial to clarify what the x-rays show, the value they bring, the rationale behind the decision and the legal implication of not taking the x-ray.
As you know this magazine is popular especially in the senior community.  Dental x-rays have extremely low radiation levels associated with them.  In comparison a complete set of dental x-ray is about 5 micro-severts and a flight from New York to Los Angeles is 40.  This is also the same amount of radiation that you would get from the environment spending 1 day outside.  Please refer to the chart below.  The digital x-rays we use are the third and fourth from the bottom.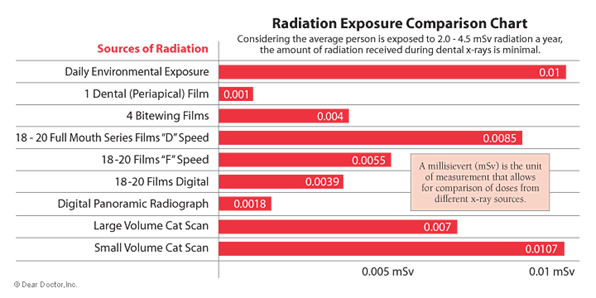 Now that we have the health risk question out of the way let us look at the benefits that they provide.
Dental X-rays give us the ability to see things that we would completely miss on inspection or examination of the mouth.  The reason is that they show the differential changes in the density of the hard tissue.  Bone levels around the teeth and soft, decalcified areas of teeth (cavities) show up on x-rays where they can appear invisible on visual inspection.  The panoramic xray that goes around the head give us the ability to see pathology in the jaws, sinus position, the nerve position in the lower jaw, impacted teeth and many other variations of normal.  These are critical when considering missing the diagnosis of a lesion or other pathological problem.
The frequency that we order x-rays is determined by the patient we are treating.  Many times seniors who are on many medications who have very dry mouths will have x-rays taken much more frequently than a healthy adult.  Patients who have dry mouths are at risk of developing cavities at a significantly higher rate.  If we wait too long the cavity can enter into the nerve of the tooth leading to an infected tooth requiring more extensive root canals or even extraction.   Those who have periodontal disease loose bone and sometimes it is necessary to take x-rays on a more frequent basis to keep record of the health of the boney tissue.  I could go on and on, but dental x-rays are hugely important to the overall accurate diagnosis and treatment of our dental patients.
Let's consider a scenario:  There is a patient who is in our dental chair for a cleaning and it is her first time at our office.  Upon inspection of her teeth and mouth it appears that she is healthy.  She is concerned about the risk of developing cancer from dental x-rays.  She read the article in the Readers Digest and she was adamant that she just wanted her teeth cleaned.  Let's say that we cleaned her teeth and did what she asked us to do.  Now about 1 year later she appears back in our office with a swelling in her jaw and says that she is having pain and now allows us to take the panoramic x-ray because now she knows there is a problem. Upon inspection of the x-ray we see an area of pathology.  She is referred to an oral surgeon and it is biopsied and discovered that it is cancerous.  When she takes this to her attorney she decides to sue you.  In court you are asked by the plaintiff's attorney why did you not take the panoramic x-ray of this patient at the initial visit?  You answer that she didn't want one and then the attorney asks what the standard of care is.  You then respond that it is to have a full set of x-rays but she denied this.  You are guilty!!!!  It doesn't matter what the patient wants, the critical point is that if it is the standard of care we in the profession are obligated to do so or the patient and the professional are at risk.
My point is that the level of radiation is so low (according to the table) that the benefits far outweigh the risks of exposure.  Please trust your dentist that they have your best interest in mind.  If you have not been to the dentist make an appointment to reduce your risk of disease.  Take control of your health and live your life as full as possible.  Even if you believe the health of your teeth are beyond repair, your dentist will help work with you to achieve your best.  It is a well-known fact that the condition of the mouth is a reflection of the body's overall health.
Reader's Digest Article on x-ray and the rational for taking x-rays
If you have questions or comments please let me know so that I can constantly improve the information that I pass along to the readership.  The office's address is 15055 22 mile, Shelby Township, MI 48315
Our phone number is (586)247-3500 or email at DrAntolak @ TheGentleDentist.com.
Ask the Gentle Dentist                                          December 2014
The relationship between excessive sugar intake and tooth decay.
In our dental practice I am constantly in contact with new patients who have been addicted to soda pop, candy, chips and other snacks which are high in sugar and acid. To be quite honest I get very frustrated with the fact that they have been doing this and have no awareness or correlation that the pop is affecting their teeth. They will often need at least $2000-$4000 of dentistry including root canals, multiple fillings, crowns, extractions, bridges and just about anything we can do. I will ask if they drink Mountain Dew, Pepsi or Coke and "The Dew" seems to be the favorite. There is actually high levels of sugar in a number of energy drinks and even in Ensure.   Unfortunately, these individuals have ignorantly been sipping on these drinks which have up to 40 grams of sugar per 12 oz. This, in combination with the fact that these drinks contain phosphoric acid makes them just right to dissolve the enamel off of the tooth surface.   When sugar comes in contact with teeth, the bacteria that naturally sticks to the teeth metabolize the sugars and form lactic acid as a byproduct. As one sips on the pop there is constant dissolving of the mineral layer and eventually black or white lines start to form on the fronts of the teeth. This is the beginning of a cavity. I tell my patients that if they have the urge to drink the pop, soft drinks, energy drinks, etc. that it is best to be done at one setting rather than throughout the day.   The constant exposure doesn't allow the body's saliva to buffer and re-mineralize the tooth structure. Our saliva has the enzymes and ability to repair the damage as long as there is enough time to do so between intake of pop.
This problem with dental decay also exists with our senior patients. The difference is that they don't have the levels of naturally occurring saliva that younger patients have so they are at an even higher risk of getting cavities. Seniors suffer from a lack of saliva from being on multiple medications, autoimmune diseases such as Sjogens syndrome and as a natural process of aging. This makes them more vulnerable to these sugar attacks. A big problem is that they use candies containing sugar to suck on to stimulate saliva flow to lubricate the mouth. This perpetual attack and decay continues unless there is a break in the cycle.
Obviously, it is best to drink water when thirsty as our body needs this and it is the most natural and needed item to sustain life. Unfortunately, many times those who are addicted to the pop say "I don't like the taste of water". What they are really saying is that they have an affinity and addiction to sugar and the caffeine. If this describes you then it is best to make sure you brush your teeth at least twice per day to remove the plaque. Rinsing with plain water immediately after drinking the soft drink and using fluoride are beneficial to help re-mineralize and strengthen the teeth.
Alternative substitutes to sugar have been tried but in my opinion there is no better substitute than xylitol. Why Xylitol? It strengthens teeth, reduces tooth decay, reduces cavity-causing bacteria, inhibits growth of dental plaque, stimulates saliva flow, 40% less calories than sugar, and the best…it is delicious and satisfying. This alternative sweetener has been used in Europe with consistent findings of reduced cavities formed. Even though it has all of the listed benefits available it costs more to use than table sugar. Since this is an altered sugar the bacteria in the mouth can't identify this as a food source and therefore will not metabolize it and form the dreaded acid. One must be careful when consuming any product excessively. If xylitol is consumed excessively bloating, flatulence and diarrhea can be experienced.   If you are a diabetic or struggle with cavities it may be of interest to know that we have candy and gum in our office that contains Xylitol, just stop in to purchase some!   It is only $5 for a canister.
Implant seminar
Due to poor planning on my part I presented a mini seminar to the public on implant dentistry before November's article went to press . I will be repeating the informational seminar in February. Stay tuned as I will have the dates solidified soon and will announce in January's article.   A few issues emerged during the presentation such as a woman who had all of her teeth extracted and how she was doing very poorly with her new denture and wanted to know how dental implants could help her. Another woman had a fixed bridge that was failing and she wanted to know how dental implants could help her to replace the tooth that needed to be extracted. There were a few other issues that people had to deal with and I had given them what I believe was in depth information and answered their questions as best as I could considering we were at a Biggby's coffee shop. I look forward to presenting this information and answering your questions in February.
Candy Buy Back
I want to report that our candy buy back was quite a success. We had collected about 350 pounds worth of candy during the event and thank those who had done so. If you have some candy still laying around your house you can drop it off at our office and I will put it to good use.
May you all have a Blessed Christmas and realize that Jesus is the reason for the season and not the amount of gifts that you give or receive. God gave His most precious gift to us at Christmas who is Jesus, His only son. Rom_10:9 If you declare with your mouth, "Jesus is Lord," and believe in your heart that God raised him from the dead, you will be saved. Have a safe Christmas and a Blessed New Year!
Sugar addiction and Dental Implant Seminar
If you have any questions about sugar addiction and dental implant seminar please contact me by visiting our website at www.TheGentleDentist.com  and fill out our contact form or call the office at (586)247-3500. Our address is 15055 22 Mile, Shelby Twp. 48315.
During examinations I often note that patients have what is known as a dental cross bite. This is where the width of the upper and lower jaws are not ideal which can lead to frequent inadvertent biting of the cheek and/or tongue.   Because I encounter this often, I want to inform the readers of this situation. My patients will tell me after I explain this that no one has ever explained this to them before.
Ideally, the upper jaw is wider than the lower. The upper teeth actually keep the cheek draped over the biting surface preventing the teeth to pinch. At the same time the lower teeth keep the tongue centered and prevent it from being bit. When this relationship is altered from habits such as thumb sucking, mouth breathing from chronically stuffed noses or enlarged adenoids or improper swallowing habits the palate doesn't properly form and problems develop.
The width of our maxillae (upper jaw) is formed from birth though 15 years old. The use of pacifiers and thumb sucking can affect the normal development of the palate, tooth position and swallowing patterns. Teeth are positioned in the jaw bone where there is an equalization of forces. The balance of forces from the cheeks, the position of the tongue during swallowing and the closure of the lips during nose breathing are all necessary for proper development.
The high position of the tongue in the palate is needed to shape the palate and airway. If a child uses a pacifier long term or sucks the thumb it prevents the upper front teeth from erupting to contact the lower front teeth.   This cascades into a problem of the tongue needing to be thrust forward to swallow which will prevent the upper front teeth from closing down. When the tongue and teeth are not positioned properly then the width of the upper jaw narrows upper forming the cross bite.
It is therefore necessary to prevent this in young children by using a pacifier until only 2 years old, preventing thumb sucking and monitoring chronic mouth breathing secondary to tonsil and adenoid problems.
Most often in adult patients the only thing we in the dental profession can do is to reshape or crown the existing upper teeth thereby creating enough space to push the cheek out of the way , preventing the cheek biting phenomenon.  If you find yourself irritated by cheek and tongue biting, please give us a call at (586)247-3500 and we can assess your bite to see of something can be done.
With us being in the middle of winter, the spring is just around the corner. I wanted to go over some tips on what to do during the cold months to make life more comfortable. In the winter our furnaces are kicked on high and with that is usually a dry heat. The problem is that furnace humidifiers don't release enough water into the air to significantly humidify it. I recommend a stand-alone humidifier that is put in the bedroom. There are a couple of reasons why I recommend it.
Humidified air transfers heat much more efficiently and it not only feels better preventing dryness on the skin, but saves energy. Consider the heat in the summer in Michigan compared to Arizona. Michigan is humid and Arizona is dry. 100 degrees feels different in each of these climates because of the humidity difference.
When sleeping, saliva flow decreases which can reduce the moisture in the mouth. Considering that many medications reduce the production of saliva coupled with the fact that the air is very dry leads to a parched mouth. The simple solution is to moisturize the air, making it more comfortable to sleep, especially if one is a mouth breather.
In the winter it is obviously much colder and if one breathes through their mouth outside it is more possible to feel a "zing" in the teeth. These can be signs of a more significant problem. It can be a sign of tooth decay and even nerve involvement. It can also be a sign of just sensitive teeth. Information regarding the intensity and length of pain are helpful in diagnosing the status of the nerve. When visiting the dentist for a toothache, it is common to apply heat or cold to the area. A normal tooth will feel the cold and even if they are sensitive there may be a blast of pain but it disappears immediately. If the nerve is in the process of dying the pain will linger on more than a couple of seconds. The pain will also differ in that it will change from a sharp pain to a dull throbbing pain. If the pain was a dull throbbing pain in the past this is not a good sign. It is a sign that the nerve is in the process of dying and an infection is present. Infections like this can be very serious and even life threatening so getting it treated by either extraction or saving the tooth with a root canal is important and urgent.
I know that I request questions and I actually receive few of them. If you have questions about dentistry Please submit them to "Ask the Gentle Dentist" 15055 22 Mile, Shelby Township, MI 48315.
Spring is such a beautiful time of the year. The snow has finally melted, the birds are singing songs early in the quiet morning, trees are budding and the flowers are blooming and yes allergies strike! If you are one of the millions of people who have seasonal allergies it also means sneezing, congestion, runny nose and other bothersome symptoms. Sometimes these symptoms can mimic a sinus infection.
Sinus infections involve the lining of the sinus membranes. Many of these infections can occur from poor drainage of the sinus cavity and increased bacteria in the sinus not getting flushed away adequately in these openings in the head. Since bacteria populate at such a fast rate it is recommended that antibiotics are the last resort and a more preventive approach is used. The use of a Nettie pot is used to flush out the nasal cavity and allow for healthier flow of the sinuses. Saline Nasal sprays are also used to keep the nasal passages moist to allow the cilia located on the membrane to sweep away the bacteria.
There are times when a back upper tooth hurts when biting on it and may even feel like a toothache. If the teeth look normal on the x-ray and if they respond normally to heat and cold then the pain may be from an inflamed sinus membrane. Only your dentist or ENT physician can differentiate the source of pain for a positive diagnosis.
When a tooth has an infection either the dental pulp or the surrounding tissues around the tooth are affected. These dental infections can feed the sinus with a constant flow of bacteria creating a source of bacteria which will constantly be diagnosed and treated as a sinus infection. The problem is that physicians will often treat the symptoms many times over with antibiotics and not the infected tooth. I have had about 3 patients with in the past 8 months or so who had infected upper molar teeth and were on multiple courses of antibiotics as the infection would not go away. Once the infected tooth was treated with surgery or root canals the sinus infections disappeared. In fact over 10% of sinus infections have a dental origination.
Because there are many interrelated issues present it can be confusing to the patient and a diagnosis can be challenging to the dentist. Most likely there is a dental cause associated with it. If you do have these symptoms and your sinus infection does not go away with antibiotics then give your dentist a call. This can be very serious and even life threatening so don't delay.
Sinus Issues and Tooth Problems
If you have any questions about sinus issues and tooth problems please contact me at drantolak@thegentledentist(.)com or write me at ASK THE GENTLE DENTIST c/o Robert Antolak DDS 15055 22 Mile #2 Shelby Township, MI 48315