Dr. Aida Rosenthal, DDS
General and FamilyDentistry in Shelby Township, MI
Meet Dr. Rosenthal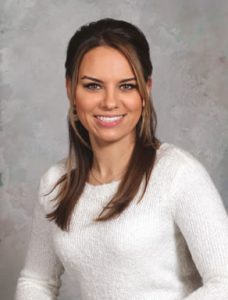 Dr. Aida Rosenthal attended Wayne State University for her undergraduate degree in Biological Science, where she was heavily involved in research at Henry Ford Hospital. Fascinated by science and its application in medicine and dentistry, Dr. Aida Rosenthal decided to further her education by earning her Doctor of Dental Surgery degree at the University of Detroit Mercy School of Dentistry. After graduation, she was inducted into Omicron Kappa Upsilon (OKU), the national dental honor society. Dr. Aida Rosenthal received additional training by completing a General Practice Residency. Born and raised in Russia, when dental care was not widely spread and promoted, Dr. Aida Rosenthal developed a deep appreciation for dentistry in the U.S.A. She believes dentistry is an essential part of overall health. Dr. Aida Rosenthal promotes preventative dentistry as well as patient education. Dr. Aida Rosenthal loves tailoring dentistry to everyone based on their personal goals and expectations. Dr. Aida Rosenthal is a member of the well-recognized Spear Education, which helps her keep up with new developments in dentistry and sharpen her existing knowledge and skills.
Dr. Aida Rosenthal spends most of her time with her husband and their 5-year-old son outside of work. She enjoys staying active and has a passion for fitness and nutrition.
In my spare time I love to get my family outside to enjoy some physical activity to stimulate our minds and bodies. Activities like hiking, kayaking, biking and working out help me to refuel after a long day. I am not scared of a challenge and continue to add new skills under my belt including mixed material arts and golfing. My pursuit of a healthy life style has made me passionate about nutrition and keeping up with my readings at my book club. Health is not just about our physical bodies, spiritual health is equally as important. As a mother, I know how hard it is for parents to squeeze time in for themselves and that's why I volunteer at my churches Sunday school to help give them that time to nourish their spirits while knowing their kids are safe and cared for.
She looks forward to working with you to help care for you and your Smile.
"Love the office and staff. Everyone is pleasant and willing to answer questions and make sure you are comfortable. The dentist, himself, is excellent. Obviously, he has chosen and trained his people well. No complaints here."
Contact Dr. Shane Thomas
586-247-3500
The Gentle Dentist
15055 22 Mile Road., Suite #2
Shelby Township, MI 48315