Porcelain Veneers – Shelby Township
Thinking about Veneers?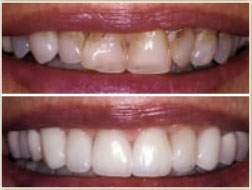 A dental veneer is a thin shell of porcelain that is bonded to a tooth to improve its color and shape. A porcelain veneer generally covers only the front and tip of a tooth. The advantages of using a dental veneer to restore a tooth are many. Very attractive aesthetics can be obtained, with minimal reduction of tooth enamel.
What can veneers do for me?
Dental veneers can be used to close spaces between teeth, lengthen small or misshapen teeth, or whiten stained or dark teeth. Porcelain veneers may be used cosmetically to resurface teeth to make them appear straighter and possess a more aesthetically pleasing alignment. This may be a quick way to improve the appearance of crooked teeth without braces. For those who want longer teeth or have spaces to be filled, Lumineers can be placed for that beautiful smile.
How Are Dental Veneers Placed?
During the first appointment at our Detroit area office, we may gently numb the teeth. We then shape and roughen the teeth and make impressions of your teeth to create a precise working model of your mouth. These models are used to artistically craft porcelain veneers to fit the prepared teeth. You will be invited to decide the shape, color, length, and appearance of your teeth that appeals most to you using temporaries before they are made out of porcelain. Through sophisticated photography and digital electronic shade matching, you will get the teeth that you have dreamed of. During the second appointment, we clean and polish the prepared porcelain veneers, and bond the new veneers to the teeth. Once in place, porcelain veneers virtually become part of your teeth. You can use them like you would your own teeth because the bond is extremely strong. The final result is beautiful and natural-looking teeth.
Who Would Not Be a Candidate for Porcelain Veneers? ß added/edited the highlighted words.
Porcelain Veneers are strong, but those who grind their teeth they must wear a mouth guard at night to protect the veneers from chipping or breaking. Patients whose lower jaw protrudes out farther than their upper jaw, (Jay Lenno profile) may not be good candidates for dental veneers because the teeth of the lower jaw may bite into the teeth of the upper jaw and dislodge the veneers.
Does insurance cover veneers?
Veneers are considered a cosmetic procedure and therefore not covered by dental insurance. 
Contact Dr. Antolak
586-247-3500
The Gentle Dentist
15055 22 Mile Road., Suite #2
Shelby Township, MI 48315