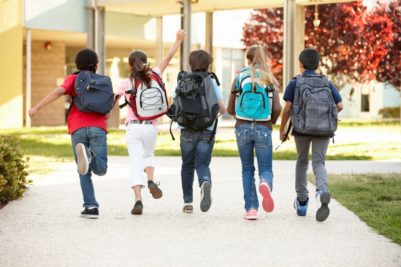 A new school year is approaching and parents are checking items off of their shopping list: binders, backpacks, pencils and more. When completing your back to school checklist, don't forget to schedule a dental exam for your child. Preventative dental care can prevent missed days at school due to emergencies and toothaches.
The back to school season is often a busier time for dental offices in Shelby Township, so be sure to schedule an appointment if you have not already.
What to Expect at a Back to School Checkup
During a back to school dental check up, your dentist will perform a thorough cleaning, check for cavities, decay, discolored teeth, and examine your child's jaw to ensure healthy growth.
If your child will be participating in any sports this year, your back to school exam is the perfect time to have a custom mouth guard fitted to prevent dental emergencies and even concussions.
Tips for a Successful Back to School Dental Exam
Ease Dental Anxiety
If your child has a fear of the dentist, try to make the experience fun and perhaps even provide a special treat such as a trip to the movie theatre or park after the dental visit. Also, ask your dentist how they can make your child feel comfortable and ease their anxiety. For example, The Gentle Dentist in Shelby Township provides special music with noise canceling headphones and many other options for dental patients of all ages.
Ask About Low Cost Plans and Financial Arrangements
If you're on a tight budget or you do not have dental insurance, many Shelby Township dentists can provide financial arrangements and affordable dental plans.
Dr Antolak from The Gentle Dentist offers the Gentle Dental Plan which includes 2 cleanings and 2 exams with x-rays every year. The cost is $247 per year and $187 per year for children 12 and under.
Often families will put off dental exams to save money but end up paying more in the long run due to expensive treatments that could have been prevented in a routine checkup. So be sure to make you and your child's oral health a top priority.
Make it a Family Activity
Children should not be the only ones receiving a dental checkup, so schedule cleanings and exams for the entire family. In addition to parents keeping up on their oral health, they will set an example for their children. Also, participating in the dental exam experience can make your child feel more comfortable with their own exam if they see Mom and Dad are visiting the dentist too.
Schedule a Back to School Checkup with a Shelby Township Dentist
Looking for a new dental office to call home? Dr. Antolak provides general dentistry and cosmetic dentistry for everyone in the family in a comfortable, caring environment.  Schedule your dental visit with Dr. Antolak in Shelby Township today by calling 586-247-3500 or visit our website at thegentledentist.com.