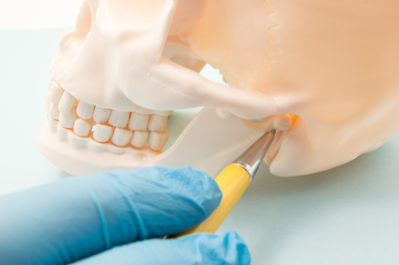 The Temporomandibular Joint (TMJ) is a sliding hinge between the jawbone and temporal bone. The TMJ disorder entails the pain in the joint and the connecting muscles responsible for jaw movement. It is often is caused by the combination of factors including arthritis, jaw injury, and genetics. People suffering from TMJ disorder also suffer from eroded teeth crowns due to excessive reflex teeth grinding.
Mouthguard: A popular conservative treatment for TMJ symptoms
People suffering from TMJ disorder are often recommended to wear mouthguards to deal with the stiffness of jaw muscles and excruciating pains. There are two major reasons why TMJ patients are prescribed the use of a mouthguard.
Mouthguards prevent overnight bruxism
Many TMJ patients involuntarily grind and clinch teeth during sleep. As mentioned earlier, bruxism can instigate the wear and tear of teeth crown. By wearing mouthguards before going to bed, people suffering from TMJ disorders can prevent that involuntarily clinching, which can result in a deteriorated physical state of teeth. Many people get over-the-counter mouthguards for the purpose. They might help some, but mass-produced mouthguards are not manufactured for custom fitting.
So, there are strong chances that patients don't get any benefit from OTC mouthguards to prevent involuntary clenching and grinding. One can get a custom-fitted mouthguard from a dentist office manufactured according to the dimensions of his oral cavity and corresponding jaw bone.
NTI mouthguard for alleviating TMJ symptoms
Dentists also offer specialized mouthguards solely made to ease the symptoms of TM disorder. These special mouthguards are called NTI (Nociceptive Trigeminal Nerve Tension Suppression System). They are designed to put the troubling jaw in a normal resting position that prevents stiffness of the connecting tissues and also limits the involuntary jaw movement. Many patients have succeeded in managing their TMJ symptoms with the use of custom-made NTI devices.
Mouthguards are not always the answer
While the use of different types and forms of mouthguards can act as a successful conservative treatment. Nevertheless, it is not an absolute solution for TMJ symptoms. Many people can't find any relief even after using custom-made mouthguards and NTI devices for a long time. For that matter, dental experts also make use of some other conservative treatment methods for providing necessary relief to troubled TMJ patients.
For instances, they employ particular massaging techniques and stretching exercises to improve the movement of the TMJ joint. Similarly, nonsteroidal anti-inflammatory drugs are also prescribed for treating the stiffness of connecting muscles.
Some people also go for alternative therapy techniques such as acupuncture and trigger point injections to get rid of the troubling symptoms inflicted by TMJ disorder.
Surgery: The last resort
When all the above mentioned non-invasive conservative measurements fail to produce desired results, dentists have to resort to a surgical solution. There are two least non-invasive surgical techniques usually offered to treat the issue of troubling TMJ joint.
Persisting with the symptoms of TMJ disorder can only aggravate the existing condition. Therefore, the wise move is to get in immediate contact with any good dental care facility such as The Gentle Dentist that also provides exemplary services for treating TMJ related issues.  We can be reached at 586-247-3500.