What is a Dental Implant?
A dental implant is an artificial root used to hold down dentures or replace missing teeth. Dental implants are surgically placed into the jaw bone and is surprisingly easy and pain free.
In the following photo it shows the implant in the bone, the abutment which is screwed down to the implant and the crown that is made and cemented over the abutment. These 3 parts are necessary to replace a single tooth.

The following image shows implants with a bar that supports a denture. These dentures snap over the bar, providing a more comfortable and secure fit to the denture so that you can eat the foods you want to eat and not the ones you have to eat. It is possible to screw the dentures to the implants for those patients who have good hygiene and are willing to invest in this alternative.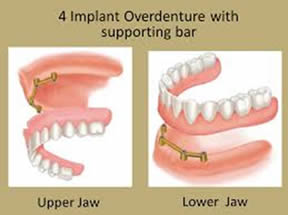 What are the costs of dental implants? Dental implants are a higher level of treatment from a clinical and technological aspect and therefore require a greater investment. The benefits are outstanding in regards to the ability to chew food and feel more confident. The range in price is dependent on a number of factors including necessary grafting, sinus augmentation, available bone, the number of implants required for a predictable outcome. Ranges are from $3500 and over. This seems like a lot of money (and it is) but for those who have this level of care there is little regret over the investment.
Question from a patient of mine who has a brother that had some teeth removed:
Is there any specific time after a tooth is removed when an implant should be placed?
Answer: there are a number of factors that affect the successful placement of an implant during the time that a tooth is extracted.
1. Areas of active infection can be a factor. If an infection is localized and not spread to the soft tissues of the face then it can be removed after a tooth is extracted and an implant placed. In the past it was believed that an implant could only be placed in an area that was without any infection. With proper cleaning and disinfecting of the extraction site and implant can be placed. It is necessary for the patient to be given an antibiotic for healthy healing.
2. Remaining bone after a tooth is removed is a huge factor if an implant can be placed. The most critical and thinnest bone is the bone that lays against the lip or cheek. This bone will usually shrink after a tooth is extracted. In fact it is the area we are most cognoscente of when extracting a tooth and protect it at all costs. Gentle, a traumatic extractions must be done for success. After a tooth is removed there is natural shrinkage of the bone can take place and if it shrinks to expose the threads of the implant then this can run into complications.
3. Molar teeth have either 2 roots (lower) or 3 roots (upper). Because an implant is best placed in the center of the site it usually lines up in the middle between where the roots are. It is sometimes better to remove the tooth, let it heal for a few months and place the implant in the ideal location. Many single rooted teeth will accept an implant placement immediately after the root is extracted.
Every attempt is made to reduce the healing time and surgical trauma to the patient and therefore placement of the implant during the extraction.
I have been placing and restoring dental implants for about 12 years now and they are very predictable and the first option of replacing missing teeth sine they are the least invasive procedure.
Candy Buy Back
Halloween has come and passed and what do you do with all of that candy you have left over? Might I suggest that you drop it off at our office so we can put it to a good cause and limit your temptation of eating what you shouldn't. Stop by our office at 15055 22 Mile. We are just east of Hayes on the north side of 22 Mile. It would be best to call us at (586)247-3500 before you come in to make sure we are open. If we are not open you can leave it in the hallway of the building in front of our door.
If you have any questions about dental implants you would like to have addressed, please call our Shelby Twp. dental office at (586) 247-3500.