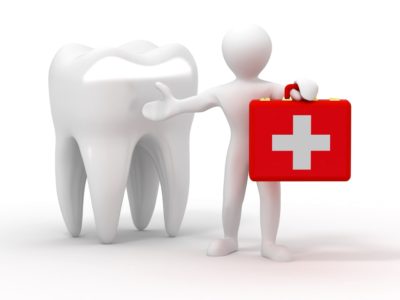 Many people are overcoming their dental phobias by getting routine dental check-ups done. During these check-ups, patients are having their teeth cleaned, cavities filled, or veneers placed with relative ease. But what if the moment that most people dread happens and you have a painful dental emergency that needs to be treated immediately?
While we all hope to never have a dental emergency of our own, it's always a great idea to understand what to do if one happens and what to expect during your visit to the dentist.
What is Considered a Dental Emergency?
A dental emergency is any dental problem that requires immediate treatment to save a tooth, alleviate severe pain, or stop bleeding. Even if you tell yourself, it's just a toothache, you shouldn't have to live with the pain for weeks until you schedule an appointment. Instead, reach out to your dentist and let them know you're having a dental emergency. This is particularly important because some infections that cause tooth pain can spread and cause life-threatening infections like sepsis.
What to Do During a Dental Emergency?
The very first course of action during a dental emergency is to call your dentist and explain what's happening. If your issue isn't something that can be treated in office, it's important to find that out prior to driving to your dentist's office. In the case of a tooth that's fallen out, your dentist's office can give you tips to help preserve your tooth until it can be placed again.
Keep in mind that when you're going to the dentist for a dental emergency, it's a good idea to have someone drive you. If your dental emergency requires a procedure to correct it, driving may be difficult afterward. Having a family or friend drive you to your dentist can save you the hassle of having to call a ride service home.
What You Can Expect At An Emergency Dental Visit
You may be apprehensive about calling your dentist's office and telling them you need to be seen immediately. However, there are a few things you can expect when you call us here at The Gentle Dentist.
Expect an understanding staff! We understand that tooth pain can be unbearable or that unforeseen emergencies happen. There's no reason to be ashamed about coming in for a dental emergency. You can expect that we'll work with you to get you the treatment you need in a timely manner.
Expect a thorough work-up. In order to alleviate the pain or resolve the dental emergency, it's important to get to the root of the problem. This may involve questions about what happened, x-rays, and an exam by your dentist.
Expect that we'll do everything in our power to help. In many cases, dental emergencies require a dental procedure of some sort. You can expect us to perform necessary procedures to alleviate pain or save your tooth.
Any emergency can be a scary ordeal. The best course of action is to be prepared and know how to react in an emergency. Remember, if you're experiencing a dental emergency in the Macomb area, give The Gentle Dentist a call at (586) 247-3500!