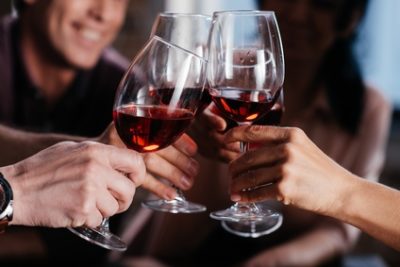 It's common practice for many people to enjoy drinks with family and friends. There's nothing wrong with relaxing and having fun with friends over drinks. In fact, most people know how to practice safe drinking habits in order to prevent any issues from arising. More people are calling Uber's and being mindful of their surroundings while drinking than in previous years.
These are both great ways to stay safe while drinking, but what about the effect of alcohol on our bodies over time? One area that many people overlook is the impact of alcohol on their oral health.
The Main Problem with Consuming Alcohol
The main issue with drinking alcohol and our oral health is that alcohol affects the balance of good and bad bacteria in our mouths. Disrupting the balance of the bacteria can cause some major issues.
According to a study published in the journal Microbiome, people who consume one or more alcoholic beverages daily will offset the balance of bacteria in their mouths, which can lead to gingivitis, gum infections, cancer, or cardiovascular disease.
The study also states that in heavy alcohol drinkers the beneficial bacteria disappeared and that inflammatory bacteria counts increased. Without the good bacteria in our mouths, those inflammatory bacteria are able to wreak havoc on our immune system and general health. The study defines a heavy drinker as a person who consumes one or more alcoholic beverages per day.
Preventing These Changes
When asked if better oral hygiene would help drinkers maintain the balance of healthy bacteria in their mouths, Dr. Jiyoung Ahn stated that the research so far did not have the answers. However, she stressed that the fact that changes of the flora of the mouth could potentially cause or prevent diseases is a huge breakthrough.
The first step towards maintaining the balance in your mouth is to limit or avoid drinking alcohol. Since the study focused on people who drank one or two glasses of alcohol per day, it can be construed that lowering your alcohol intake could help you maintain the balance of good bacteria in your mouth.
The Importance of Regular Check-Ups
While studies haven't confirmed that better oral hygiene can prevent the imbalance of bacteria in our mouths, it's still important to stay on top of your regular dental check-ups. During your routine dental check-ups, your dentist will clean and check your teeth for signs of gum disease and gingivitis. Gum disease that is caught early can often be treated with minimally invasive procedures. Most dentists recommend that you have a routine dental check-up every six months to prevent cavities or the spread of gum disease.
Schedule Your Check-Up Today
Just because you drink doesn't mean that you have gum disease. It does, however, increase your chances of developing it due to an imbalance of bacteria in your mouth. Along with lowering your alcohol intake, you should take your routine dental check-ups seriously. Don't wait until gum disease and gingivitis cause you pain. Instead, give The Gentle Dentist a call today at (586) 247-3500 to schedule your dental check-up today!