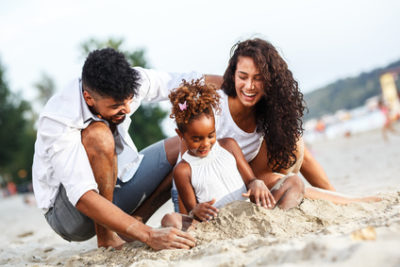 In Michigan we are just weeks away from the end of the school year. And with summer just around the corner, there will be less routines such as evening homework, early bedtimes and hectic mornings rushing to the bus stop.
However, there is one routine you need to keep in place for your children this summer – oral hygiene.  Here are a few summer oral health tips to keep your kids' developing teeth from any damage.
Keep Oral Hygiene Routines
As stated earlier, you must stay with your oral hygiene routine throughout the summer fun. Resist the temptation to skip brushing before a late bedtime.  Brushing twice a day and flossing once a day is still important. But with all of the excitement of summer actives, don't be surprised if you have to remind your children to brush and floss more than once.
Stick to Healthy Foods and Avoid Sugars
With the kids home all day and their friends coming and going, there certainly will be an increased amount of snacking.  But be sure to keep healthy options ready and available. Make it easy for the kids to reach for fruits and vegetables instead of candy and other sugary foods.
Also, limit sugary pops, lemonades, and other fruit juices. It is alright to enjoy these drinks once in awhile but try drink mainly water and milk.  Not to mention, water will ultimately keep the kids more hydrated than sugary beverages. If they do enjoy a soda once in awhile, immediately follow that drink with a glass of water to help wash the teeth and remove any sugary residue.
Make your Back-to-School Dental Visit Early
Parents often schedule checkups in August or September, right before school starts. Instead, schedule a check-up as soon as summer begins. This way, the kids will have a clean bill of dental health for summer.
Plus, you will beat the back-to-school rush and prevent your child from missing class due to dental visits.
Avoid Dental Emergencies
With summer comes pool time, bike rides, sports and other fun outdoor activities.  But sometimes this fun and excitement can also create a sudden dental emergency
First, be sure to enforce common safety rules. No running on slippery pool decks and wear a helmet when biking. For sports, you may want to invest in a mouthguard to prevent injuries.
Try to keep an emergency dental care kit at home and in your vehicle at all times. Items in this kit can include, gauze, a container with a lid (in case you need to preserve part of a broken tooth), and pain reliever.
Schedule Your Summer Checkup with a Shelby Twp. Dentist
Summer sun brings summer fun. But don't forget to eat healthy and maintain oral hygiene.
If you are looking for a Shelby Twp. dentist to perform a summer checkup for you and your family, contact Dr. Antolak from The Gentle Dentist today at 586-247-3500. Or visit us at our website at thegentledentist.com to learn more about our Shelby Twp dental practice or to read additional dental hygiene tips.