I want to focus on diabetes and the effects it has on the oral condition.  Here are some statistics about diabetes:
8% of our population is affected by diabetes
It affects 27% of adults  65  and older.
It is the seventh most common cause of death in the United States.
Latinos and African Americans are more at risk.
Diabetes simply explained
I would like to provide some simple explanations of diabetes and some of the testing that is used to diagnose it.
Simply defined that diabetes is the condition where the body either does not have enough insulin in the blood available to convert the blood sugars (glucose) from foods into the cells of the body.
Pre-diabetes This condition shows signs of someone who is at risk of developing diabetes. If glucose levels are elevated above normal but below diabetes they are at risk but through proper diet and exercise they can reverse the process.  They may develop the early signs of diabetes or not.  The symptoms of diabetes include: Frequent thirst, frequent urination, constantly being hungry.  If you have any of these symptoms please get yourself for diabetes and take the proper measures so that you can live a more normalized life before diabetes controls you.
Type I diabetes is an autoimmune and genetic condition where the body does not produce insulin and these people need to use insulin injections or a pump.  This is usually diagnosed at a young age. Only 5% of diabetics are Type I.
Type II diabetes is the most common type in that 90% of people diagnosed with diabetes are at this stage.  This condition is where the body does not produce enough insulin.  This is the condition that is affected by obesity, exercise, proper nutrition, and age.  A person with Type II diabetes may be put on oral medication at this stage as well as a specific diet and exercise plan.
Shelby Dentist Discusses Diabetes and the Effects on the Oral Condition
Gestational diabetes develops in some pregnant women but is usually reversible once the baby is born.
Lab tests for diabetes:
The pictures below show the progressive change in how the body handles blood glucose from normal to diabetes.
FPG– These "floating" glucose levels are measured after an 8 hour fasting period.  After this time the body should have had enough insulin to convert it. (Diagram on the left)
OGTT-This is done to see how, over a 2 hour period the time the body deposits the glucose.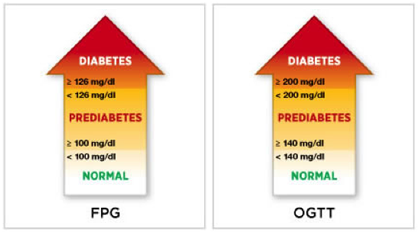 The other day I saw a patient who was in her mid 20s who had periodontal pockets measuring 5-6 mm, with probings of less than 3 mm being considered as normal and healthy.  She did not smoke but had a family history of diabetes. I referred her to her physician to have a blood test since she had signs from her periodontal probing that are not consistent to a healthy person.
We are considering performing fasting glucose screenings  done in our office to test for those who are prone to diabetes in the near future.  We have the philosophy in our dental practice to aide in the healing of the body and the spirit as well.
Shelby Dentist Discusses Diabetes and the Effects on the Oral Condition
If you have any quesitons about your periodontal or dental condition please contact us.  If you have questions or topics you would like me to address in this column, please email me a drantolak@thegentledentist.com or write at 15055 22 Mile, #2, Shelby Twp. MI 48315.  You can also call our office at (586)247-3500.
Contact Shelby Dentist, Robert Antolak, DDS – The Gentle Dentist at: 586-247-3500