Hybridge Permanent solution for your smile.
Many think that dentures are a thing of the past, but more people wear them than we think. According to the National Health and Nutrition Examination Survey (NHANES III), 57 percent of Americans ages 65 to 74, and 51 percent of those age 55 to 64 have full or partial dentures. Some don't mind taking a denture in and out, however some want a more permanent option. The good news is that now with advanced technology there is a permanent solution.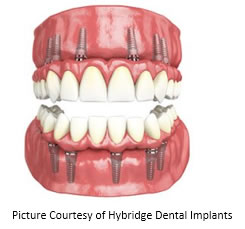 The technique called Hybridge is an innovative full-arch tooth replacement. Only certified dentists that have met qualification criteria and completed rigorous training courses are able to perform the Hybridge solution. This method has been tested and proven over the last 25 years by founders Drs. Frank and James LaMar. According to the Hybridge website, there are no providers in Michigan that are able to do the Hybridge technique until now. Dr. Antolak in Shelby Township, Michigan is now becoming a certified dentist with Hybridge.
If you are looking for a lower jaw or an upper jaw full arch dental implant bridge, or even a full arch full-mouth restoration, then the Hybridge technique may be for you. The end result would be a finely crafted prosthetic restoration supported only by permanent titanium dental implants. There is no contact with your gums and the upper jaw does not cover the roof of the mouth.   Every patient is different, and Dr. Antolak will devise a plan that is best for you to choose from. If you are tired of the way your teeth feel and look then give us a call.  Even if you have existing dentures that you are really tired of we have a great solution for you.
The Hybridge full arch system will provide you with teeth that look natural and that won't slip or fall out because they are permanently fixed. It will allow you to eat the foods you love and want to eat and not the foods that "you have" to eat because they are durable and long lasting. You will also never have to go without teeth because you will leave with a temporary set of teeth the same day. Hybridge differs from other full arch systems because it is supported on 5 or 6 dental implants and the entire treatment is planned with the final definitive restoration in mind. The final definitive restoration can be ready in as little as 3 weeks.
This full arch solution is definitely an investment. With all factors considered including long term maintenance, the Hybridge is considered the most cost effective solution with the best long term value. One full arch treatment can typically range anywhere from $17,000-$20,000. However, the cost does vary depending on the number of teeth remaining and if it is the upper or lower. Insurance may cover a small portion of the cost. For a more exact cost, give us a call for your initial consultation.
With a completely fixed dental implant retained bridge, you will need to still come in for your regular dental cleanings and check-ups every 3-4 months. Since Hybridge is screwed in place it can only be removed by the dentist and only when needed. Patients young and old can get the Hybridge as long as they have good healing. Smoking does hinder the healing time of the Hybridge procedure, and is generally not advised for those who have dental implants anyway.  The Hybridge is a once and for all solution and could change your life!
Dr. Antolak has been looking for a solution for about 5 years and is excited about this technique so give us a call for your exam and consultation.
Article written by:  Jessica Wendt, RDH